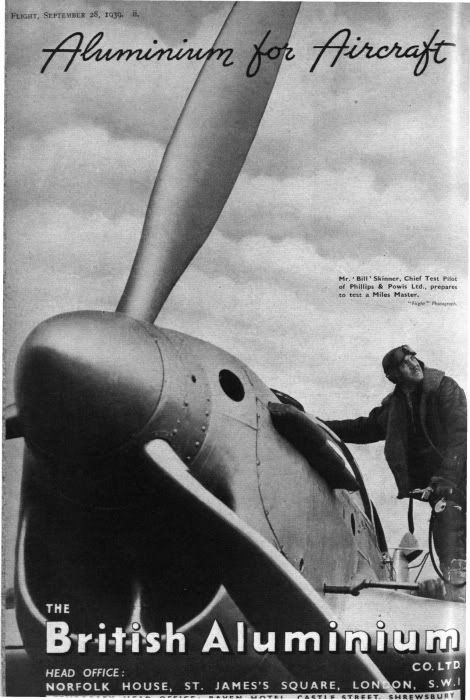 A fine pre-war advertisement. But not is all quite as it seems. The first oddity is that Miles were famous for their wooden aircraft. While we are looking at the metal engine cowls, propeller and fittings, it seems a bit odd that British Aluminium would choose a
wood
aeroplane to advertise their wares!
Then we note it's a
Flight
magazine advert for the Miles Master which, given the radiator position, is actually the Miles Kestrel, an early design that was developed into the Master, and with a number of detail differences, the critical one being the fact that the Kestrel's radiator block was under the engine in the nose, while the Master's was under the wing centre section. If you know that, you aren't going to mistake one for the other from this angle.
There was only one Kestrel built, in 1936 as the Miles M.9 Kestrel, c/n 330, and registered G-AEOC, flying in 1937 and scrapped in 1943. Here's the Kestrel from a different more revealing angle.
Source unknown.
And, for comparison, the Miles Master trainer.
Source unknown.


Both elegant designs, and efficient for the job. They were also the RAF's own preferred type that they couldn't get enough of, so the US designed and built North American Harvard (T-6) filled the shortfall. Had history been different, we'd be tripping over Miles Masters on every airfield, rather than those ubiquitous T-6s.
Here's a good
Flight
cutaway of the cockpit area. I like the instructor's visor and seat could be raised for a better view on landing. I'm not sure how practical that was on circuits and bumps.
Reproduced, with acknowledgement from Flight Global. A bigger version here.

Again, it's not what it seems. Flight have it listed under 'Miles Master'
here
yet the lack of a step in the canopy top and the small, upright and un-armoured windscreen don't match the Master but do match the Kestrel.
One last confusion. The Miles Kestrel was powered by - wait for it - the Rolls Royce Kestrel V-12 engine. Both companies named their products after birds of prey, Miles sticking mostly to hawks, Rolls Royce casting wider. One could presume that Miles chose to call this one the Kestrel as they'd not used the name before, and it fitted the engine it had. Intriguingly, I can't think of another aircraft where the engine and aircraft name is the same but the builders were different. I'm sure there must be - suggestions on the comments button please!